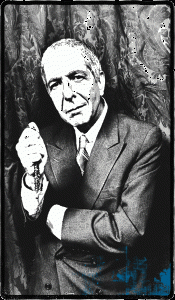 Leonard Cohen has been writing songs for over forty years. He is universally recognized as one of the great song writers of our time, having explored a variety of genres with an almost facile genius. Raised in a Messianic Jewish home, he has always explored religious themes and much of his music reflects his immersion in and reflection on the Old Testament. Despite becoming a Buddhist Zen monk for five years, Cohen remains an observant Jew.
Not only is Cohen a song writer and singer, he is also a published poet and novelist. I have always thought that song writers should study poetry (poetry really is song) and that the great song writers were in fact poets. Could Cohen be Cohen without his study and practice of poetry?
As just one example of Cohen's gift, I cite his song Hallelujah, written in 1984 and recorded by over 50 artists. The song is marriage between lyric and melody, with each serving the other. The lyrics evoke several Old Testament themes, sometimes merging them (David, Bathsheba, Samson, Delilah all appear) while bringing them into the present by means of direct address. There is a "you" in this poem that makes us all in someway share in the tragedies and triumphs of David, Bathsheba, Samson and Delilah. Especially moving is the last line of the second stanza: "And from your lips she drew the Hallelujah." It seems that Bathsheba and Delilah–both abused and tragic women– still receive the blessing, the Hallelujah, that while cold and broken, is passed on from generation to generation, a promise given in the midst of so much human suffering. "Though he slay me, yet will I trust him," Job said.
As I listen to "Hallelujah" I find myself present along with these forebears–they become like brothers and sisters to me. I also become the "you," the person addressed, and the singer, who cries "Hallelujah," Hebrew for "praise Yahweh." How can all this be at once? Only because Cohen is a great poet.
I think that Cohen and his poetry and music will make for a interesting unity study in classical schools. He presents much to discuss, debate and enjoy.
Well if 50 artists have recorded "Hallelujah," why not one more?. Here is my version, done, as it were, by compulsion. See the full text of the song below.
Hallelujah by Leonard Cohen sung by Christopher Perrin
Hallelujah
Leonard Cohen
I heard there was a secret chord
That David played and it pleased the Lord
But you don't really care for music do ya
It goes like this the fourth the fifth
the minor fall and the major lift
The baffled king composing hallelujah
Hallelujah, Hallelujah, Hallelujah, Hallelujah
Your faith was strong but you needed proof
You saw her bathing on the roof
She tied you to a kitchen chair
She broke your throne, and she cut your hair
And from your lips she drew the Hallelujah
Hallelujah, Hallelujah, Hallelujah, Hallelujah
Maybe I've been here before
I know this room I've walked this floor
I used to live alone before I knew you
I've seen your flag on the marble arch
Love is not a victory march
It's a cold and it's a broken hallelujah
Hallelujah, Hallelujah, Hallelujah, Hallelujah
There was a time you let me know
What's real and going on below
But now you never show it to me do you?
I remember when I moved in you
The holy dark was moving too
And every breath we drew was hallelujah
Hallelujah, Hallelujah, Hallelujah, Hallelujah
Maybe there's a better bow
Then all I ever learned from love
Was how to shoot at someone while I drew you
Its not a cry you can hear at night
Its not somebody who's seen the light
It's a cold and it's a broken hallelujah
Hallelujah, Hallelujah, Hallelujah, Hallelujah
You say I took the name in vain
I don't even know the name
But if I did, well really, what's it to ya?
There's a blaze of light in every word
It doesn't matter which you heard
The holy or the broken Hallelujah
Hallelujah, Hallelujah, Hallelujah, Hallelujah
I did my best, it wasn't much
I couldn't feel, so I tried to touch
I've told the truth, I didn't come to fool ya
And even though it all went wrong
I'll stand before the Lord of Song
With nothing on my tongue but Hallelujah
Hallelujah, Hallelujah, Hallelujah, Hallelujah
Hallelujah, Hallelujah, Hallelujah, Hallelujah