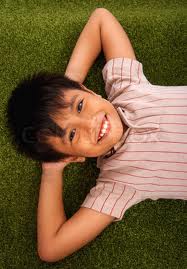 Classical Academic Press (of which I am a part) has launched a new online academy called Schole Academy.  Naturally, some want to know what schole means, and sense it has something to do with school.  Well it does and it doesn't, it turns out.  Here is the first essay of three on the recovery of schole in education.
My friend and colleague Andrew Kern (of the Circe Institute) once hosted a conference with the theme "A Contemplation of Rest."  This was several years ago, but Andrew deserves credit for raising the banner of a problem we all know something about: Modern education is an education in anxiety.  Modern administrators, teachers, parents and students are frenzied and frenetic.  Students rush to classes (at the sound of bells), often eight classes a day, then run to practices, music lessons and other activities.  Then a night of homework when they try to manage assignments for their eight classes for which they receive numerical assessments, often on a weekly basis.  Most students by junior high fall into the all too familiar cram-pass-forget cycle of "learning" that has afflicted almost all of us during our own education.   We have all taken courses, the content of which faded into oblivion just a few months (or weeks) after we completed them.  Some of us can barely recall if we even took a course in say, American history or British literature.
Well the good news is that for about thirty years there has been a steady push against this kind of frenetic, ephemeral education and a curious inquiry into the kind of education that preceded this unsettling schooling that dominates America.  What came before it was the so-called classical model, itself multi-faceted but still a coherent, integrated approach to education that while rigorous, was slower and more contemplative.  The classical tradition of education was (and is) many things woven together: a curriculum (including the seven liberal arts), a community (yes it does take a village) and a pedagogy (from chanting in younger grades to Socratic discussion in older ones).  It is a large tradition and I can heartily recommend that readers consult the new book by Kevin Clark and Ravi Jain, The Liberal Arts Tradition: A Philosophy of Christian Classical Education.
However, an important part of the tradition is contemplation itself.  It would not have been conceivable to our forbears to consider a daily schedule of eight different classes, nor even the prospect of choosing a "major" field of study until the liberal arts were mastered.  There were no majors in college until about the mid-1800s.  Education in the classical tradition was rigorous, but it was slower, and focused on fewer arts at a time to ensure mastery and permanent learning.  There was no "gaming the system" or the test; students were taught by masters who got to decide when a student was ready to proceed to further study.  Teachers were expected to be masters who could be trusted to teach (because they were masters)—not functionaries of a system that forces all teachers to use the same techniques at the same time and verify their compliance by machine-readable multiple choice instruments.
Contemplation—do we even know what it is?  And once we recover an intellectual grasp of it, do we know how to engage in it?  Can we even slow down enough to read a long poem without getting distracted and fidgety?  Have we become trained and habituated to constantly move, shift and flux—in body and mind?
The Greek word for leisure is schole (skoh-LAY).  It does not mean leisure in the American sense of relaxing on a vacation at the beach.  It means rather "restful learning" that comes from discussion, conversation and reflection among good friends.  For the Greeks, this was the noble thing—one of the highest activities of human existence.  The Greeks had another word for that kind of work that we all must do to earn our bread: ascholia.  Ascholia means that necessary activity that keeps you from schole.  Now wage-earning is a fine and noble thing in its own right, properly conceived.  But do you see that schole is a higher thing still?  Until we do, we won't have it because we won't want it.  The classical tradition esteemed it and sought and so should we.
I close with an irony.  Yes, we do derive our word "school" from schole.  Schole moved into the Latin as schola (with some change of meaning) and then into German as schule and English as "school." By the time we get to English, the restful connotation of schole has vanished.  We can hope, however, that the renewal of classical education will put the schole back into school.
Josef Pieper in his book Leisure The Basis of Culture says that education (philosophy and poetry for that matter) begins in wonder.  Kevin Clark and Ravi Jain in their new book, The Liberal Arts Tradition, also note that in the classical tradition, education moves from wonder to worship to wisdom (the three W's of classical education).  Can a student truly be a student if she is not compelled to wonder at the startling world into which she was born?  A. G. Sertillanges (in The Intellectual Life) says,
Every intellectual work begins by a moment of ecstasy; only in the second place does the talent of arrangement, the technique of transitions, connection of ideas, construction, come into play. Now what is this ecstasy but a flight upwards, away from self, a forgetting to live our own poor life, in order that the object of our delight may live in our thought and in our heart.
Now by ecstasy, Sertillanges is appealing to the literal meaning of the Greek word ecstasis, which means to be lifted up and out of the ones "station" or the place where one is fixed, standing. Children are naturally set to wonder and delight in truth, goodness and beauty–and they are easily cultivated to continue in wonder.  Do we really have a student, if he is not still wondering at the cosmos?  The Latin studium (from which student is derived) means eagerness, zeal, enthusiasm, even fondness and affection.  We could argue that without zeal and affection for truth, goodness and beauty, without love for the lovely–a student cannot truly be a student.
For what it is worth, I explore this theme in the following webinar, recorded and available here: Education in Wonder and Curiosity Webinar
Leigh Bortins of Classical Conversations has released another helpful book on classical education, aimed at homeschooling parents seeking to engage in dialectic education with their older students.  It is aptly named The Question, for dialectic education is largely a matter of asking good questions that lead students to a deeper engagement with great ideas.  How does a parent who lamentably does not have a classical education teach his or her own children using a classical pedagogy?  This is the predicament almost all of us share (don't feel alone with your sense of inadequacy)–we are trying to give to our children and students what we were not given ourselves.
It is at this point that Leigh Bortins is helpful.  She very well knows the challenge facing thousands of homeschooling moms around the country who are educating their children classically.  She knows how to start at the beginning (a very good place to start) and keep things simple, elegant and achievable.  Now to use a word like "simple" to describe a book about classical education (which can be complicated and which many complicate) may sound like a criticism, but it is not.  To take something big, various and complex and reduce it to its essential attributes is no easy task–it takes intelligence and self-control.  I know this first-hand because I am one of those who is prone recklessly to dive into deep waters and then eagerly report what I don't really yet understand.  The recovery of the whole of classical education will take at least another generation–it is a long obedience, a a long labor of love.  Bortins is wise: it turns out that homeschooling parents need a clear practical books first and foremost, and these are the kind of books she has set out to write.  We need to walk before we run, and Bortins has set many to walking and walking fast.  There will be time for other books and deeper learning, but the classical tradition should not be needlessly complicated–ever–but especially at the beginning.
So Bortins walks us into the tradition of dialectic, the art of asking wise questions that lead students to do the same.  She crafts the book around the common topics of Aristotle: definition, comparison, relationship, circumstance and testimony) and shows how these topics or "lines of argument" can enable students to ask thoughtful questions of any art, study or discipline, essentially equipping students to engage truth, goodness and beauty wherever they are found.  These common topics come from Aristotle's Rhetoric, but they are well-suited to introduce us to dialectic.  The fact that Bortins would use key content from rhetoric as key components of dialectic underscores two points: 1) Rhetoric did not (and need not) always follow dialectic.  Rhetoric (aspects of it) can be taught earlier though its most prevalent place was after dialectic 2) Dialectic and Rhetoric are integrated and not completely discrete disciplines.  Yes, we can use rhetorical elements (the common topics of invention) to engage in dialectic teaching.  Yes, we will use logic as we engage in the teaching of rhetoric.  The liberal arts can be used with great versatility–even to teach each other.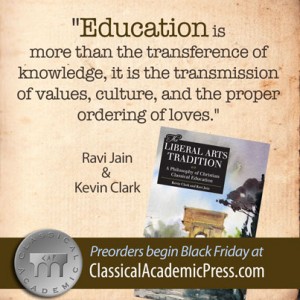 I am glad to be a part of a strong new book on classical education to be released this December.  Kevin Clark and Ravi Jain have been working on a pithy book on the philosophy of Christian classical education for over five years, and taken the book through some eight versions, as they have sought critical feedback from professors, scholars and teachers.  The result is a short book of about 200 pages that is remarkably clear, historically accurate and philosophically intelligent.  As a general introduction to classical education, I think it is the ideal "201″ book that will take readers to the next the level of understanding after reading books like Recovering the Lost Tools of Learning (Doug Wilson), Wisdom and Eloquence (Evans and Littlejohn), The Well-Trained Mind (Bauer and Wise), and The Core (Bortins).   The name of the book is The Liberal Arts Tradition: A Philosophy of Christian Classical Education, to be published by Classical Academic Press this December.
Dr. Peter Kreeft wrote the foreward for this new volume (a meaningful endorsement) and I am lucky enough to write the "Publisher's Note."  Here is my note below, posted with the hope that it may further whet your appetite for this excellent book.
A Note from the Publisher
Seeking to recover a lost art or craft is a difficult endeavor. There are few, if any, who are masters of the craft or art and who can teach the necessary skills to those coming behind. Those of us who have been trying to recover the art of classical education have been in that awkward position of trying to craft a curriculum and pedagogy without training and only a few tools. We have tried to give what we were not given ourselves. We are trying to reconstruct a bridge without having studied bridge building.
The good news is that the recovery has been underway for about thirty years now, and some good books have been written and many great old books found and read. Beyond that, there have been many who have been building bridges—actually implementing a recovered classical Christian education in our schools/homeschools and slowly learning the art, often through a good deal of trial and error. We are slowly finding our footing, finding ourselves walking more confidently on the old paths and finding the old way very much suited to our own new times. The bridge may not be beautiful, but it's now functional and people are crossing over. Slowly the bridge is getting wider and stronger and gradually more attractive to the eye.
Kevin Clark and Ravi Jain are two educator-philosophers who have been reading the old and new books and implementing their ideas at the Geneva School in Winter Park, Florida, for some ten years—building the bridge. What's more, they have discussed their ideas with peers and critics over this span, inviting leading educators and professors from around the country to engage and critique their ideas. In this crucible of give and take, their ideas have evolved and clarified and have resulted in this pithy, clear, and profound book, setting the model of Christian classical education before us in bright light. To those who have read Douglas Wilson's Recovering the Lost Tools of Learning or Evans and Littlejohn's Wisdom and Eloquence, this book will prove to be the illuminating third book that helps complete the bridge linking us back to the classical tradition of education.
I have noted that this book is pithy and clear. It is. Clark and Jain took this manuscript through some eight editions, refining the text more each time, knowing that the discussion of classical education is often confusing on many levels. In at least two ways Clark and Jain bring clarity where it has often been lacking. First, they clarify the confusing taxonomy of the classical curriculum (scope and sequence) and they define terms. They accomplish this with a historical survey of the classical curriculum as well as a contemporary survey of its application and terminology. Too often we find an unstable blend of modern terminology and traditional classical categories. Generally there is talk of the Trivium and Quadrivium—blended with many other kinds of terminology and classification. We are not sure what is specified by "art," "science," "humanities," "grammar," or "natural philosophy," because these various words are used in different ways and already have a wide or uncertain semantic range. Clark and Jain bring much-needed clarity to this discussion.
The second way in which Clark and Jain bring clarity is by showing us the entire context of the classical curriculum—a context that is larger than the seven liberal arts of the Trivium and Quadrivium. In fact, for the first time (for many) they show us explicitly how singing, worship, poetry, recess, stories, drama, and field days are in fact an integral part of a classical education. They show us how history, literature, philosophy, and theology (not liberal arts) are critical to the tradition. They summarize that context for the integrated, holistic, and humanizing curriculum as PGMAPT: piety, gymnastic, music, arts (the liberal arts), philosophy, and theology. In my thinking, PGMAPT has already become the mental overlay I use for reflecting on the general endeavor of classical education—it is the best big picture I have seen.
This model proves to be very helpful to elementary school educators (especially in grades K-2) who do not teach Latin, logic, or rhetoric and who often ask "How do I teach classically?" Well, a Kindergarten teacher is indeed a profoundly classical teacher who helps establish young souls in piety, gymnastic, and music—priming and cultivating the affections, loves, wills, and bodies of children at a time when they are docile, receptive, and eager. It is these teachers of the young who make the first deep and lasting impression on the souls of children—tuning their hearts and training their bodies, engaging them in a holistic and essentially "musical" education, and educating them in wonder that teaches "passions more than skills and content." It turns out that the classical primary teachers are the exalted "wonder-workers" of the school. In this respect, the primary teachers lead the entire endeavor, as "wonder" is a condition for all future study.
This model is also helpful to upper school educators who teach literature, history, theology, and philosophy. Training in the liberal arts while humanizing "goods" in themselves nonetheless prepares students for the formal study of philosophy and theology. There is a kind of biblical study that is present even in kindergarten, but the formal study of theology requires the training of the liberal arts to be done with mastery. Thus Clark and Jain say that classical education is "grounded in piety and governed by theology," which is to say that biblical truth is both the beginning and the end (the arche and the telos) of Christian classical education. This recovered full model of classical education (PGMAPT) gives the twelfth-grade theological educator his rightful place. Though the formal study of theology comes last in the sequence, she nonetheless is the governess guiding the entire educational enterprise, giving coherence and unity throughout—the "queen" of the arts.
If recovering classical education is like recovering a lost art, it might also be like trying to remember a hazy dream. In the reading of dozens of books on classical education, I often experience the exercise in a kind of dream state. I find myself catching glimpses of things that I know are part of a great whole, as if I once knew that whole but can't quite remember it. When another book restores some part of that whole, I put that part into place with a flash of recognition—as it fits into place I recognize that I once knew it. Who will restore to me the whole? How can I remember what I once knew? Well, Clark and Jain have helped stir these collective memories, telling us who we once were, restoring our narrative, restoring our rightful inheritance. How do they do this? Over ten years they have somehow succeeded in remembering who we all once were and they can now tell the story that awakens us. PGMAPT is that story, and I think you will immediately recognize it as your story, as the education for which you have yearned and want to give to your children.
—Christopher A. Perrin, PhD, Publisher, Classical Academic Press
Well, most of us are now preparing to resume school in the next few weeks.  Some of you have already started.  Some of you never stopped.  In fact, while formal schooling may have a yearly rhythm with starting and ending dates, learning itself transcends such boundaries.  In fact, while formal schooling is an important part of learning, it is only a part.  The late Jacques Barzun said that schools can teach but not educate, because the larger enterprise of education (the long, ongoing process of cultivating and civilizing a human soul) only occurs in the context of the larger community of parents, work, friends, church… and school.  So learning should not be something we relegate only to school–it is occurring all the time, either poorly or well and by a dozen different "teachers."
As we "go back to school" we might remember this, so that we don't expect too much from formal schooling, and so that we continue to expect more from other sources of communal education.  Parents are still the most important teachers that students have.  One could argue that the student himself is his own most important teacher, for until he decides to learn for himself he not really even a student (the original meaning of student contain the idea of one who is zealous and eager for knowledge, from the Latin studere: to be eager, earnest, zealous).  Are your students returning to school as zealots for truth, goodness and beauty?  Then they are ready for school, which is to say they have been students all summer long.
Bill Carey teaches calculus and Latin…and does computer programming.  Are all these activities related?  As you listen to the full interview I recorded with Bill, I think you will see that they are.  In this clip, listen to Bill give a Latin response to the question, Why study Latin?
Bill Carey is a Latin educator, math educator (Ad Fontes Academy, VA) and computer programmer (geospatial engineer).  He has always loved both math and Latin, and is one of the few people I know who can relate Latin to computer programming without hesitation.  As a fifth-grader, he was taught Latin by his father (an attorney and part-time Latin professor), and went on to UVA to study classics, but also a good bit of mathematics.  His unique blend of Latin and math make him a rare, refreshing  human being and educator.  I will be posting several more clips of my interview with him, but enjoy this first clip in which he talks about entering the great conversation of math.
I just posted an article about C. S. Lewis's book The Abolition of Man—which you can see on this blog.  Then I watched the video interview of Edward Snowden, the whistle blower of the controversial Prism surveillance program run by the NSA.
I won't summarize all of the arguments of Lewis's book, but he does set forward the thesis that new technologies that enable "man's power over nature" turn out to be not to be the power of "man" generally, but rather the power of a few men over many other men.
The technologies that Lewis had in mind in 1947 were such things as the airplane, the wireless (radio) and contraceptives.  Today, no doubt he would mention computers, smart phones…and the internet.   These technologies do in fact bequeath power—power that most of us enjoy, like the power of emailing a friend, or listening to The Brother's Karamazov, or checking our bank account–all while riding a bus, train or taxi (and even on some airplanes).
The power of these technologies are increasing rapidly, and while they may bless the man on the street, they also bolster the man at the bureau.  We trust that our governmental agencies like the FBI, CIA and NSA use these great powers well, for our welfare and safety.  If we ever suspect that they are using these powers to control, contain and condition the man on the street…well we become a bit nervous and edgy.  The same technology that enables the NSA to track a potential terrorist, enables it to track me… a potential dissident.  But our government wants (even encourages?) dissidence, or political free speech even of those critical of government policy.  Right?
Lewis notes that when a culture has jettisoned objective value (what he also calls the Tao)—real, knowable truth and goodness—then gradually the way it wields power shifts from serving people to conditioning them to act the way the power-holders think best.  And what a power-holder thinks best is not determined by an objective standard of what is right and good, precisely because such standards have been rejected.  How then to do the power-holders make their decisions?  They do what they please—that is to say they follow whatever impulses come to them as the strongest.  These power-holders themselves may become what Lewis calls "Conditioners" and "man-moulders:"
They are, rather, not men (in the old sense) at all.  They are, if you like, men who have sacrificed their own share in traditional humanity in order to devote themselves to the task of deciding what 'Humanity' shall henceforth mean. 'Good' and 'bad,' applied to them, are words without content: for it is from them that the content of these words is henceforward to be derived.
Could it be that immense power in the hands of few, in a culture without objective value will lead to man-moulding policies that seek to shape citizens into conformity with the prevailing ideals of those exercising this power?  Is controlling and conditioning citizens not a great temptation to those possessing power—but no traditional morality?   Lewis thinks that these amoral men are not bad men, because they have ceased to be men at all:
It is not that they are bad men.  They are not men at all.  Stepping outside the Tao, they have stepped into the void.  Nor are their subjects necessarily unhappy men.  They are not men at all: they are artifacts.  Man's final conquest has proved to be the abolition of Man.
Yes, but can't we take solace in knowing that these power-holders are going to treat us fairly and well (certainly not as artifacts)?  Surely, the great majority of people in these agencies will act for our good, or at least the common good.   Lewis, I think, would qualify his answer.  To those who hold to objective value (the Tao), we may expect some reasonable degree of benevolent treatment.  But what should we expect from those who have rejected objective value?
I am very doubtful whether history show us one example of a man, who, having stepped outside traditional morality and attained power, has used that power benevolently.  I am inclined to think that the Conditioners will hate the conditioned.
In Orwell's 1984, the protagonist Winston Smith (after a great deal of conditioning) learns to love Big Brother, with tears in his eyes.  But Lewis suggests that Big Brother never loves the little brother, the man on the street.   Neither does Orwell.  The man-moulders want to control, shape and produce a new humanity, what Lewis calls a post-humanity.
This is a pessimistic note to be sure.  Chesterton says somewhere that he may enjoy a lively dinner conversation with a houseguest who is a moral relativist; but he will still hide the silver at night.   Can we trust the good people at the FBI, CIA and NSA?  Are they good people?  Are they even people?
Finally, do we regard even Edward Snowden as good?  If so, by what standard?  Watch as most commentators call him either good or bad, but without appealing to any clear standard of objective truth or goodness.  The testimony of Snowden himself doubles the irony, as even he does not appeal to any clear standards either.  His view of the human good life seems to be the common "live and let live" as every man sees fit.  Freedom to many American is now freedom to do as we please and create our own "morality." Why can't the folks at the NSA do the same?  We all live by…impulse.
I have no way of proving this thesis, but I think that roughly half of all American have rejected objective value, and we are the midst of living out the consequences of this rejection in a thousand ways.  Could it be that half of the people working in the FBI, CIA and NSA are themselves without a polished moral compass?  We may call for investigations and committee hearings and protest loudly, but until we return to the Tao, we will have no basis to criticize or demand reform.  Instead we will pit the impulses of the man on the street against the impulses of the man with the power, with no doubt as to who will win.
The Abolition of Man–A Review for Classical Educators
C. S. Lewis
The Abolition of Man was first published in 1947, just two years after the end of the second World War, after a great deal of abolition indeed.  Lewis' book, however, is not about man's abolition by bombing and battles, but by grammar books and teaching methods.  Eventually he does address propaganda (think Nazi propaganda) and conditioning as the eventual teaching method employed by a controlling state.
The Abolition of Man is one of C. S. Lewis' smaller books.  It is not, however, a small read.  In this little book, Lewis seeks to swim upstream into a very brisk current, and one feels the pressure of that fight and the strong push against Lewis's thought that exists everywhere today, as it did a generation ago when he wrote it.
When I read The Abolition of Man—and I have read it some five times—I find myself in the water with Lewis, kicking for all I am worth.  Then occasionally I feel myself sliding downstream, for modern thought about education and "values" has a pull on me at times.  The essence of his book is straightforward: there is a real, knowable world with objects that merit our blame and praise.  At one place Lewis calls this the doctrine of objective value, though he also uses "The Tao" for shorthand.
How can that seemingly self-evident truth make for such a hard, brief book?  Well for one this doctrine is attacked indirectly at every side so that we have been conditioned to resist it; secondly the denial of this doctrine leads to several ideas and practices that at first, don't seem related, but in fact are.  Finally this book is a hard read because we need its wisdom so much, but have employed it so little.  Lewis makes a compelling case for cultivating the affections of our students, but we have largely taught our students the way were taught—too often encouraging our students to invent their own moral universe.
Lewis makes an argument for objective value, not by quoting biblical texts, church fathers or theologians, though he could.  He does not quote philosophers of aesthetics, though he could.  He appeals rather to the universal consensus of the major world religions and moral or ethical philosophy.  Though he is a Christian, he makes an appeal merely as a theist, pointing out that theists of all kinds recognize and confess that their exist objects in the world (like mountains, trees, sunsets, waterfalls) and real human qualities (like courage, generosity and self-sacrificing love) that merit our praise and accompanying emotions of gratitude, admiration and love.  As well, the universal tradition recognizes and confesses that there are some objects in the world (like deformity and destroyed landscapes) and some human qualities (like thievery, lying and cowardice) the merit our blame and accompanying emotions of revulsion, anger and sorrow.
If you assent to this doctrine of objective value, you may hold to it on rational grounds as you think about it just now. But isn't beauty in the eye of the beholder?  Do you confess (at times) "to each his own" and "live and let live"?  Are not your reactions to many objects and qualities actually—your reactions?  They may not be my reactions, for I am a different person than you with a different background, different training, different assumptions and preferences.   We both see the storm approach and lightening strike.  "The glory of God and his power!" you may say.  "No soccer game today!" I may say.  Are not "value judgments" largely (or at least significantly) subjective?  If you feel the force of this suggestion, then you are in common company, first because we have all been conditioned to think that all value judgments are subjective and second because there is some truth  to the suggestion (we all bring personal biography to our assessments in varying degrees).  The truth in it, combined with our incessant conditioning (which distorts the truth in it) makes reading Lewis' book a challenge for many of us.
For a classical educator, things can get more complicated yet, when we read that classical tradition from Plato onward tells us that we must cultivate the affections and sensibilities of the young to love that which is lovely even before their age of reason.  This is truly alien to our culture: we must train the emotions of children to love the good and beautiful and hate the bad and ugly.  What?  Isn't this indoctrination?  Isn't this imposing our view of what is true, good and beautiful on someone else—and a vulnerable, impressionable child at that?  Don't we need rather to encourage the young child to seek out her own preferred good and bad things, find her own style of beautiful and even her own truths?  How dare we stunt or destroy this child's freedom to choose her values and become what she wishes!
Well Lewis, Plato, Aristotle and Augustine all say that we should do precisely that.  The true, good and beautiful are real and knowable and should not only be presented to children, but they should be encouraged to love the true, good and beautiful.  Their emotions should be cultivated so that they blame and hate the false, bad and ugly as well.  Are you kicking upstream?  Slipping a little?
Now note the related implications.  If you accept the doctrine of objective value and you are a teacher, should you not regularly show forth what you regard as universally true, good and beautiful objects and acts?  Should you not seek to "order the loves" of your students and exhort them to flee disordered loves for those things that are not true, good and beautiful?  Is there anything beautiful in your classroom—or your manner of speech?  Are you full of admiration and praise, and then in proper measure full of blame and critique?  Or is everything you teach left in a mush for students to sort out and think as they wish?
Because we have been conditioned to resist calling something truly lovely and then loving it, we often lack the courage to praise, extol, admire and praise.  We also lack the courage to blame the ugly, despise the lie, flee the immoral.  We have become humans without robust emotion, without conviction, without affections, without heart.  In Lewis's words, we have become men without chests.
But the implications of the doctrine of objective values travel in another direction too.  If one rejects this doctrine, what happens to education?  How will we teach?  Well wittingly or not, certain things follow, or eventually follow.  If all value judgments are merely subjective, then we merely describe our feelings when we make such judgments—which amounts to nothing particularly profound.  Thus when our student Susan says, "That horse is beautiful" she merely states that she has certain pleasant feelings when she looks at the horse, but says nothing objectively real about the horse.   What this does to teaching we have all seen and experienced.  Teaching to a large extent becomes a group exploration of our individual reactions, responses and feelings, often celebrated as our individual, autonomous freedom.  Instead of celebrating something as universally lovely, we celebrate the individual, free student and his opinions; each child is a unique snowflake (just like every other student).  What we don't realize is how profoundly this view has affected us.  Do you feel the current?  Don't we all want to tell our children they indeed are unique and wonderful?  Aren't virtually all their ideas to be admired and encouraged?  Don't you want to view your own ideas, inclinations and opinions in a similar way?  We have been carried down this river for many years.
If a teacher does not believe in object value, it does not mean that he won't teach values.  Lewis argues that the teacher who denies such values will in fact teach a very clear set of values—and they will be the prevailing values of "his set" the assumed values of the modern establishment of which he is a part.  Even the denial of objective value is itself a value after all—a confessed common good.   Lewis' point is that all humans will hold to universal values—even those denying them.  Such values will be hidden and assumed by such teachers, however.
Lewis concludes his book, by pointing to an ominous implication of rejecting the doctrine of objective value.  If there is no objective value, then our educators will eventually become our conditioners, conditioning us to states of mind convenient to the aims of those in power.  It will employ pervasive propaganda and various forms of coercion.    There is simply no other means of appeal to persuade people to a course of belief, action or behavior.  If there is no objective value, and we are unique and free to feel as we wish, how will we ever act in concert toward the same ends?  A million autonomous snowflakes will not drift into a civilization.  If there is to be a cohesive society (without objective value) then it must be conditioned and forced.  A state-sponsored indoctrination follows in which humans are manipulated into serving the state's interest even if this means the abolition of the chest and heart of man, or the abolition of man himself.
The subtitle of Lewis' book is "How Education Shapes Man's Sense of Morality."  We educators are indeed shaping the souls of humans beings, shaping them to love one thing or another.  As we read, and re-read this profound little book, we should pay attention to the way in which our own poor education has shaped our sense of morality—our sense of what is true, good and beautiful.  And since we are swimming against the current, we should do so together and kick, kick, kick.
Questions for educators:
Are you reluctant to praise the true, good and beautiful before your students?
What "hidden" values do you assume that come through indirectly in your teaching?
What are the hidden values in your school culture and community?
In what ways does the subjectivist view of morality linger in your teaching or school community?
Here is a seminar featuring some pedagogical training I frequently give to schools and co-ops.  I hope this is helpful to those seeking to learn more about classical education.  In this video I present eight teaching principles that come down to us from the classical tradition: 1) festinal lente (make haste slowly); multum non multa (much not many); repetitio mater memoriae (repetition the mother of memory); songs and chants; embodied education; educational virtues, wonder and curiosity; schole and contemplation.