Scholé in The Scriptures: Choosing What Is Better
Those of you who know this blog (or anything about me) know that I have been reading and writing about returning scholé to our schools and homeschools for about three years now.  Here is a brief article relating the Greek concept of scholé to the Old and New Testament.–CP
Aristotle and Scholé
Well it was Aristotle who first described the importance of scholé (leisure, restful learning and conversation, contemplation), and yet the Hebrew Scriptures (which predate Aristotle) seem to touch on this theme as well.  The New Testament certainly does too in some unique ways.
Aristotle writes in Book VII of the Politics:
 …we fulfill our nature not only when we work well but when we use leisure (scholé) well.  For I must repeat what I have said before: that leisure is the "initiating principle" of all achievements.  Granted that work and leisure are both necessary, yet leisure is the desired end for which work is done; and this raises the question of how we ought to employ our leisure.  Not by merely amusing ourselves, obviously, for that would be to set up amusement as the chief end of life. (Book VII:iii)
Aristotle does not disparage wage-earning work, but he says that such work (and amusement) cannot be fitting ends for human aspiration and life.  The highest end is the right employment of scholé.
Scholé in The Old Testament
Now this insight was picked up by the church (many centuries later) and identified with contemplation.  This is not surprising since the Old Testament also suggests a life of "restful learning" and contemplation as the heart of a full human life:
One thing I ask of the Lord, this is what I seek: that I may dwell in house of the Lord all the days of my life, to gaze upon the beauty of the LORD and to seek him in his temple.  (Psalm 27)

This is what the Sovereign Lord, the Holy One of Israel, says: "In repentance and rest is your salvation, in quietness and trust is your strength, but you would have none of it. (Isaiah 30:15)

I have no peace, no quietness; I have no rest, but only turmoil." (Job 3:26)
The Hebrew concept of shalom (often translated "peace") also includes a connotation similar to scholé: In addition to the idea of safety and soundness, shalom also frequently means quiet, tranquility and friendship—all components of scholé.
In the Greek translation of the Old Testament (the Septuagint) scholé only appears twice (in Genesis 33:14 and Proverbs 28:19) and means leisure in the primary sense of "going slowly" (Genesis 33:14) and even wasting time (Proverbs 28:19).  In the Wisdom of Sirach however, we find this interesting passage:
The wisdom of a learned man cometh by opportunity of leisure (scholé): and he that hath little business shall become wise.  How can he get wisdom that holdeth the plough, and that glorieth in the goad, that driveth oxen, and is occupied in their labors, and whose talk is of bullocks? (Wisdom of Sirach 3:24, 25)
Here the word scholé is used very much as Aristotle uses it, and the context makes it clear that wisdom comes from the man who takes the opportunity of scholé and does not over-indulge in wage-earning labors.  Note how the passage not only addresses too much business or labor—but also address the mental preoccupation of the man who only talks about his work.  If his only talk is of his bullocks, we must surmise that his only thought is about them as well.
Scholé in the New Testament
In the New Testament (written in Greek), scholé only occurs a few times.  Scholé can refer to a lecture hall (where scholé or learned discussions occur) and this is what we find in Acts 19:9  where we read that Paul took his disciples daily for discussions at the lecture hall (scholén) of a man named Tyrannus.  In 1 Cor. 7:5, Paul writes that married couples should devote (scholaséte) themselves to prayer.  Paul here uses the verbal form of scholé that means to have rest or leisure, or to be dedicated or devoted (no distractions or obligatory work!).
Beyond the actual use of the word scholé, we do find the New Testament addressing the concept of scholé in several places:
The Example of Christ
The first indication we get that Jesus condones "restful learning" is that time we find him at age 12, away from his parents for at least three days, "in the temple courts, sitting among the teachers, listening to them and asking them questions." (Luke 2:46).  Leaving aside the fact that "everyone who hear him was amazed at his understanding and his answers" (2:47), we should note that Jesus spend three days (sleeping at the temple too?) engaged in conversation with the best teachers in Israel.  And he did this at the age of a 6th grader.  He tells his parents that "he had to be in his Father's house" (2:49), but we note that what he was doing in his Father's house resembles scholé or restful learning.
We find Christ frequently going off by himself to pray, even for 40 days at a time.  Christ seemed never to be in a hurry, but relaxed and peaceful.  Even when others around him are frenetic, he is tranquil.  In Luke 10, Martha implores Jesus to tell her sister Mary to help her with dinner preparations, for Martha was busy working while Mary was sitting and talking with Jesus.  Jesus responds to her: "Martha, Martha you are anxious (busy) and troubled about many things, but only one thing is needed.  Mary has chosen what is better (literally "the good part"), and it will not be taken from her." (Luke 10: 42)
It is hard to imagine a better illustration from the gospels about what scholé means than this event recorded in Luke 10. We all have to prepare meals, do dishes and work for wages—and these are good things.  The better thing, however (when we are free to chose), is to talk with a master.  Mary was talking with the Master, and certainly chose wisely.
Example from Paul's Writings
Paul writes in 2 Cor. 3:
Now the Lord is the Spirit, and where the Spirit of the Lord is, there is freedom.   And we all, who with unveiled faces contemplate[a] the Lord's glory, are being transformed into his image with ever-increasing glory, which comes from the Lord, who is the Spirit. (2 Cor. 3: 17. 18)
Paul notes that the faithful, in the context of the freedom given by the Spirit, contemplate (gaze, reflect) the glory of God and are then transformed to resemble that very glory.  This reminds us of Christ's teaching that a student, when he has been fully trained, will be like his master (Luke 6:36).  Paul also hints that this transformation is a process that takes time.  We gaze and study the glory, and slowly (with ever-increasing glory, literally "from glory to glory") we grow to resemble this glory.
Paul has in mind the experience of Moses coming down from Mt. Sinai after meeting with God there, having received the two tablets containing the Ten Commandments.  When Moses came down from that mountain, his face was glowing brightly enough that he spooked the Israelites and had to put a veil over his face.
When Moses came down from Mount Sinai with the two tablets of the covenant law in his hands, he was not aware that his face was radiant because he had spoken with the Lord. When Aaron and all the Israelites saw Moses, his face was radiant, and they were afraid to come near him… Then Moses would put the veil back over his face until he went in to speak with the Lord. (Ex. 34:29, 30, 35)
Apparently to Paul, the life of the Christian is to be one of contemplation and gazing—looking on the same one that set Moses face aglow.  This implies undistracted gazing, focus and….time.  Looking, gazing, contemplation thus become a metaphor for learning, conversation and transformation.  After all, Moses was not upon the mountain in a kind of dream sleep—he was rather talking and listening to God—having a remarkable conversation with the Master.  Paul suggests that we can now do the same.
Conclusion
It seems that even when not using the word scholé, that the Old and New Testaments nonetheless describe a growing and learning process that is very much in keeping with Aristotle's use of the word.  Slow, restful, conversation and learning is set before us as an example to follow, with Christ himself as the Master of scholé.
If the entire Christian life can be summarized as a kind of slow and sanctified conversation with the Master, could it be that all of our learning should take a cue from this same kind "restful learning" and resemble a refreshing and ongoing conversation?
If Christ says "Come to me, all you who are weary and burdened, and I will give you rest," and if he says, " Take my yoke upon you and learn from me, for I am gentle and humble in heart, and you will find rest for your souls," (Matt. 11: 28, 29) then should not the way we educate our sons and daughters be gentle and restful?
How many of us have been busy about many things, thinking that we were not free to choose anything else?
Can the liturgical tradition of the church, and associated practices help revitalize teaching?  That was the contention of James K. A. Smith's book Desiring The Kingdom and also the book he co-edited entitled Teaching and Christian Practices.  Educator Jenny Rallens (The Ambrose School, Boise ID) has spent the past three years working to employ the insights of these books in her teaching of 5th and 8th graders, and has indeed revitalized her classrooms.  One way I know this, is by means of the five minute clip (in the video below) of her 5th graders discussing Tolkien's Fellowship of the Ring.  Another way I know this is by watching her teach other teachers, and by numerous conversations that confirm that she is wise beyond her years.  Jenny was classically educated throughout her life, from grammar school to high school to college.  Now she is pursuing a master's at Oxford University where she is studying the classical concept of memory in education.  If you are a teacher, you will be richly repaid for watching and contemplating the presentation below.  This presentation was given at the recent Alcuin Retreat for educators sponsored by the Society for Classical Learning.
Those readers interested in the concept of schole (leisure, restful learning) may enjoy this video presentation I gave on the topic a few months ago at Providence Academy in Green Bay, Wisconsin.  If you like the content, then you are really liking the book behind it: Leisure, The Basis of Culture by Josef Pieper.  If you don't like it, well then I did not do Pieper justice.  In either case get this book by Pieper.  My presentation is divided into four video clips of about 15 minutes each.  Special thanks to Ron Jung, headmaster at Providence Academy.
Part 1
Part 2
Part 3
Part 4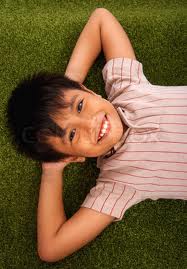 Classical Academic Press (of which I am a part) has launched a new online academy called Schole Academy.  Naturally, some want to know what schole means, and sense it has something to do with school.  Well it does and it doesn't, it turns out.  Here is the first essay of three on the recovery of schole in education.
My friend and colleague Andrew Kern (of the Circe Institute) once hosted a conference with the theme "A Contemplation of Rest."  This was several years ago, but Andrew deserves credit for raising the banner of a problem we all know something about: Modern education is an education in anxiety.  Modern administrators, teachers, parents and students are frenzied and frenetic.  Students rush to classes (at the sound of bells), often eight classes a day, then run to practices, music lessons and other activities.  Then a night of homework when they try to manage assignments for their eight classes for which they receive numerical assessments, often on a weekly basis.  Most students by junior high fall into the all too familiar cram-pass-forget cycle of "learning" that has afflicted almost all of us during our own education.   We have all taken courses, the content of which faded into oblivion just a few months (or weeks) after we completed them.  Some of us can barely recall if we even took a course in say, American history or British literature.
Well the good news is that for about thirty years there has been a steady push against this kind of frenetic, ephemeral education and a curious inquiry into the kind of education that preceded this unsettling schooling that dominates America.  What came before it was the so-called classical model, itself multi-faceted but still a coherent, integrated approach to education that while rigorous, was slower and more contemplative.  The classical tradition of education was (and is) many things woven together: a curriculum (including the seven liberal arts), a community (yes it does take a village) and a pedagogy (from chanting in younger grades to Socratic discussion in older ones).  It is a large tradition and I can heartily recommend that readers consult the new book by Kevin Clark and Ravi Jain, The Liberal Arts Tradition: A Philosophy of Christian Classical Education.
However, an important part of the tradition is contemplation itself.  It would not have been conceivable to our forbears to consider a daily schedule of eight different classes, nor even the prospect of choosing a "major" field of study until the liberal arts were mastered.  There were no majors in college until about the mid-1800s.  Education in the classical tradition was rigorous, but it was slower, and focused on fewer arts at a time to ensure mastery and permanent learning.  There was no "gaming the system" or the test; students were taught by masters who got to decide when a student was ready to proceed to further study.  Teachers were expected to be masters who could be trusted to teach (because they were masters)—not functionaries of a system that forces all teachers to use the same techniques at the same time and verify their compliance by machine-readable multiple choice instruments.
Contemplation—do we even know what it is?  And once we recover an intellectual grasp of it, do we know how to engage in it?  Can we even slow down enough to read a long poem without getting distracted and fidgety?  Have we become trained and habituated to constantly move, shift and flux—in body and mind?
The Greek word for leisure is schole (skoh-LAY).  It does not mean leisure in the American sense of relaxing on a vacation at the beach.  It means rather "restful learning" that comes from discussion, conversation and reflection among good friends.  For the Greeks, this was the noble thing—one of the highest activities of human existence.  The Greeks had another word for that kind of work that we all must do to earn our bread: ascholia.  Ascholia means that necessary activity that keeps you from schole.  Now wage-earning is a fine and noble thing in its own right, properly conceived.  But do you see that schole is a higher thing still?  Until we do, we won't have it because we won't want it.  The classical tradition esteemed it and sought and so should we.
I close with an irony.  Yes, we do derive our word "school" from schole.  Schole moved into the Latin as schola (with some change of meaning) and then into German as schule and English as "school." By the time we get to English, the restful connotation of schole has vanished.  We can hope, however, that the renewal of classical education will put the schole back into school.
Josef Pieper in his book Leisure The Basis of Culture says that education (philosophy and poetry for that matter) begins in wonder.  Kevin Clark and Ravi Jain in their new book, The Liberal Arts Tradition, also note that in the classical tradition, education moves from wonder to worship to wisdom (the three W's of classical education).  Can a student truly be a student if she is not compelled to wonder at the startling world into which she was born?  A. G. Sertillanges (in The Intellectual Life) says,
Every intellectual work begins by a moment of ecstasy; only in the second place does the talent of arrangement, the technique of transitions, connection of ideas, construction, come into play. Now what is this ecstasy but a flight upwards, away from self, a forgetting to live our own poor life, in order that the object of our delight may live in our thought and in our heart.
Now by ecstasy, Sertillanges is appealing to the literal meaning of the Greek word ecstasis, which means to be lifted up and out of the ones "station" or the place where one is fixed, standing. Children are naturally set to wonder and delight in truth, goodness and beauty–and they are easily cultivated to continue in wonder.  Do we really have a student, if he is not still wondering at the cosmos?  The Latin studium (from which student is derived) means eagerness, zeal, enthusiasm, even fondness and affection.  We could argue that without zeal and affection for truth, goodness and beauty, without love for the lovely–a student cannot truly be a student.
For what it is worth, I explore this theme in the following webinar, recorded and available here: Education in Wonder and Curiosity Webinar
Leigh Bortins of Classical Conversations has released another helpful book on classical education, aimed at homeschooling parents seeking to engage in dialectic education with their older students.  It is aptly named The Question, for dialectic education is largely a matter of asking good questions that lead students to a deeper engagement with great ideas.  How does a parent who lamentably does not have a classical education teach his or her own children using a classical pedagogy?  This is the predicament almost all of us share (don't feel alone with your sense of inadequacy)–we are trying to give to our children and students what we were not given ourselves.
It is at this point that Leigh Bortins is helpful.  She very well knows the challenge facing thousands of homeschooling moms around the country who are educating their children classically.  She knows how to start at the beginning (a very good place to start) and keep things simple, elegant and achievable.  Now to use a word like "simple" to describe a book about classical education (which can be complicated and which many complicate) may sound like a criticism, but it is not.  To take something big, various and complex and reduce it to its essential attributes is no easy task–it takes intelligence and self-control.  I know this first-hand because I am one of those who is prone recklessly to dive into deep waters and then eagerly report what I don't really yet understand.  The recovery of the whole of classical education will take at least another generation–it is a long obedience, a a long labor of love.  Bortins is wise: it turns out that homeschooling parents need a clear practical books first and foremost, and these are the kind of books she has set out to write.  We need to walk before we run, and Bortins has set many to walking and walking fast.  There will be time for other books and deeper learning, but the classical tradition should not be needlessly complicated–ever–but especially at the beginning.
So Bortins walks us into the tradition of dialectic, the art of asking wise questions that lead students to do the same.  She crafts the book around the common topics of Aristotle: definition, comparison, relationship, circumstance and testimony) and shows how these topics or "lines of argument" can enable students to ask thoughtful questions of any art, study or discipline, essentially equipping students to engage truth, goodness and beauty wherever they are found.  These common topics come from Aristotle's Rhetoric, but they are well-suited to introduce us to dialectic.  The fact that Bortins would use key content from rhetoric as key components of dialectic underscores two points: 1) Rhetoric did not (and need not) always follow dialectic.  Rhetoric (aspects of it) can be taught earlier though its most prevalent place was after dialectic 2) Dialectic and Rhetoric are integrated and not completely discrete disciplines.  Yes, we can use rhetorical elements (the common topics of invention) to engage in dialectic teaching.  Yes, we will use logic as we engage in the teaching of rhetoric.  The liberal arts can be used with great versatility–even to teach each other.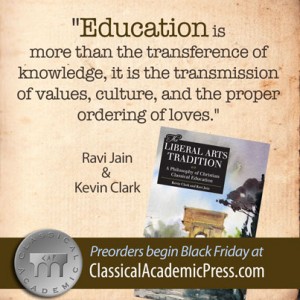 I am glad to be a part of a strong new book on classical education to be released this December.  Kevin Clark and Ravi Jain have been working on a pithy book on the philosophy of Christian classical education for over five years, and taken the book through some eight versions, as they have sought critical feedback from professors, scholars and teachers.  The result is a short book of about 200 pages that is remarkably clear, historically accurate and philosophically intelligent.  As a general introduction to classical education, I think it is the ideal "201″ book that will take readers to the next the level of understanding after reading books like Recovering the Lost Tools of Learning (Doug Wilson), Wisdom and Eloquence (Evans and Littlejohn), The Well-Trained Mind (Bauer and Wise), and The Core (Bortins).   The name of the book is The Liberal Arts Tradition: A Philosophy of Christian Classical Education, to be published by Classical Academic Press this December.
Dr. Peter Kreeft wrote the foreward for this new volume (a meaningful endorsement) and I am lucky enough to write the "Publisher's Note."  Here is my note below, posted with the hope that it may further whet your appetite for this excellent book.
A Note from the Publisher
Seeking to recover a lost art or craft is a difficult endeavor. There are few, if any, who are masters of the craft or art and who can teach the necessary skills to those coming behind. Those of us who have been trying to recover the art of classical education have been in that awkward position of trying to craft a curriculum and pedagogy without training and only a few tools. We have tried to give what we were not given ourselves. We are trying to reconstruct a bridge without having studied bridge building.
The good news is that the recovery has been underway for about thirty years now, and some good books have been written and many great old books found and read. Beyond that, there have been many who have been building bridges—actually implementing a recovered classical Christian education in our schools/homeschools and slowly learning the art, often through a good deal of trial and error. We are slowly finding our footing, finding ourselves walking more confidently on the old paths and finding the old way very much suited to our own new times. The bridge may not be beautiful, but it's now functional and people are crossing over. Slowly the bridge is getting wider and stronger and gradually more attractive to the eye.
Kevin Clark and Ravi Jain are two educator-philosophers who have been reading the old and new books and implementing their ideas at the Geneva School in Winter Park, Florida, for some ten years—building the bridge. What's more, they have discussed their ideas with peers and critics over this span, inviting leading educators and professors from around the country to engage and critique their ideas. In this crucible of give and take, their ideas have evolved and clarified and have resulted in this pithy, clear, and profound book, setting the model of Christian classical education before us in bright light. To those who have read Douglas Wilson's Recovering the Lost Tools of Learning or Evans and Littlejohn's Wisdom and Eloquence, this book will prove to be the illuminating third book that helps complete the bridge linking us back to the classical tradition of education.
I have noted that this book is pithy and clear. It is. Clark and Jain took this manuscript through some eight editions, refining the text more each time, knowing that the discussion of classical education is often confusing on many levels. In at least two ways Clark and Jain bring clarity where it has often been lacking. First, they clarify the confusing taxonomy of the classical curriculum (scope and sequence) and they define terms. They accomplish this with a historical survey of the classical curriculum as well as a contemporary survey of its application and terminology. Too often we find an unstable blend of modern terminology and traditional classical categories. Generally there is talk of the Trivium and Quadrivium—blended with many other kinds of terminology and classification. We are not sure what is specified by "art," "science," "humanities," "grammar," or "natural philosophy," because these various words are used in different ways and already have a wide or uncertain semantic range. Clark and Jain bring much-needed clarity to this discussion.
The second way in which Clark and Jain bring clarity is by showing us the entire context of the classical curriculum—a context that is larger than the seven liberal arts of the Trivium and Quadrivium. In fact, for the first time (for many) they show us explicitly how singing, worship, poetry, recess, stories, drama, and field days are in fact an integral part of a classical education. They show us how history, literature, philosophy, and theology (not liberal arts) are critical to the tradition. They summarize that context for the integrated, holistic, and humanizing curriculum as PGMAPT: piety, gymnastic, music, arts (the liberal arts), philosophy, and theology. In my thinking, PGMAPT has already become the mental overlay I use for reflecting on the general endeavor of classical education—it is the best big picture I have seen.
This model proves to be very helpful to elementary school educators (especially in grades K-2) who do not teach Latin, logic, or rhetoric and who often ask "How do I teach classically?" Well, a Kindergarten teacher is indeed a profoundly classical teacher who helps establish young souls in piety, gymnastic, and music—priming and cultivating the affections, loves, wills, and bodies of children at a time when they are docile, receptive, and eager. It is these teachers of the young who make the first deep and lasting impression on the souls of children—tuning their hearts and training their bodies, engaging them in a holistic and essentially "musical" education, and educating them in wonder that teaches "passions more than skills and content." It turns out that the classical primary teachers are the exalted "wonder-workers" of the school. In this respect, the primary teachers lead the entire endeavor, as "wonder" is a condition for all future study.
This model is also helpful to upper school educators who teach literature, history, theology, and philosophy. Training in the liberal arts while humanizing "goods" in themselves nonetheless prepares students for the formal study of philosophy and theology. There is a kind of biblical study that is present even in kindergarten, but the formal study of theology requires the training of the liberal arts to be done with mastery. Thus Clark and Jain say that classical education is "grounded in piety and governed by theology," which is to say that biblical truth is both the beginning and the end (the arche and the telos) of Christian classical education. This recovered full model of classical education (PGMAPT) gives the twelfth-grade theological educator his rightful place. Though the formal study of theology comes last in the sequence, she nonetheless is the governess guiding the entire educational enterprise, giving coherence and unity throughout—the "queen" of the arts.
If recovering classical education is like recovering a lost art, it might also be like trying to remember a hazy dream. In the reading of dozens of books on classical education, I often experience the exercise in a kind of dream state. I find myself catching glimpses of things that I know are part of a great whole, as if I once knew that whole but can't quite remember it. When another book restores some part of that whole, I put that part into place with a flash of recognition—as it fits into place I recognize that I once knew it. Who will restore to me the whole? How can I remember what I once knew? Well, Clark and Jain have helped stir these collective memories, telling us who we once were, restoring our narrative, restoring our rightful inheritance. How do they do this? Over ten years they have somehow succeeded in remembering who we all once were and they can now tell the story that awakens us. PGMAPT is that story, and I think you will immediately recognize it as your story, as the education for which you have yearned and want to give to your children.
—Christopher A. Perrin, PhD, Publisher, Classical Academic Press
Well, most of us are now preparing to resume school in the next few weeks.  Some of you have already started.  Some of you never stopped.  In fact, while formal schooling may have a yearly rhythm with starting and ending dates, learning itself transcends such boundaries.  In fact, while formal schooling is an important part of learning, it is only a part.  The late Jacques Barzun said that schools can teach but not educate, because the larger enterprise of education (the long, ongoing process of cultivating and civilizing a human soul) only occurs in the context of the larger community of parents, work, friends, church… and school.  So learning should not be something we relegate only to school–it is occurring all the time, either poorly or well and by a dozen different "teachers."
As we "go back to school" we might remember this, so that we don't expect too much from formal schooling, and so that we continue to expect more from other sources of communal education.  Parents are still the most important teachers that students have.  One could argue that the student himself is his own most important teacher, for until he decides to learn for himself he not really even a student (the original meaning of student contain the idea of one who is zealous and eager for knowledge, from the Latin studere: to be eager, earnest, zealous).  Are your students returning to school as zealots for truth, goodness and beauty?  Then they are ready for school, which is to say they have been students all summer long.
Bill Carey teaches calculus and Latin…and does computer programming.  Are all these activities related?  As you listen to the full interview I recorded with Bill, I think you will see that they are.  In this clip, listen to Bill give a Latin response to the question, Why study Latin?
Bill Carey is a Latin educator, math educator (Ad Fontes Academy, VA) and computer programmer (geospatial engineer).  He has always loved both math and Latin, and is one of the few people I know who can relate Latin to computer programming without hesitation.  As a fifth-grader, he was taught Latin by his father (an attorney and part-time Latin professor), and went on to UVA to study classics, but also a good bit of mathematics.  His unique blend of Latin and math make him a rare, refreshing  human being and educator.  I will be posting several more clips of my interview with him, but enjoy this first clip in which he talks about entering the great conversation of math.